My Latest Little Gray Girlfriends
Over 35,000 photos, 430+ models!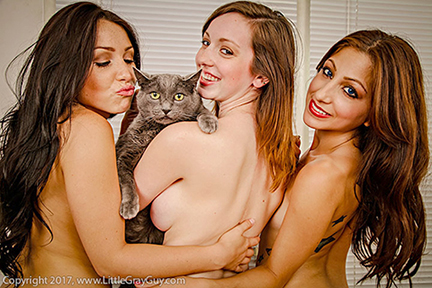 Hi graysters! This is our penulitmate update with a Little Gray Girlfriend... or in this case, Girlfriends. Here are Lola Foxx, Veronica Voss, and Alexa Rydell--all California girls and me, from 2012. CiaoMeow!
My human and I have been running this website for over 16 years, and we've decided we'll stop updating it next month. The site will stay up for many more years though, so everyone can continue to enjoy all the photos of me and my little gray girlfriends!
My human made a book of some of the photos from this website, and some never seen before behind-the-scenes photos... you can download it here.

Other Little Gray News...
Do you post photos to Instagram? Then check out my human's Informal Guide to Making Your Photos Safe for Instagram, so you never fall foul of the censors there!