LittleGray was involved in a scandal at the House of Commons in England. Here are the relevant pages from an article in the Sunday Sport newspaper from March 2013.


According to Harvard Law School, LittleGrayGuy's website is blocked in China. Read the full article here.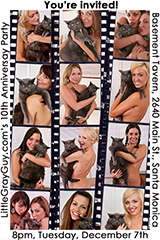 In December 2010, LittleGray and his pals celebrated the 10th anniversary of his site going live. We went to the famous Basement Tavern in Santa Monica, and had an awesome time. There are lots of photos from that night here.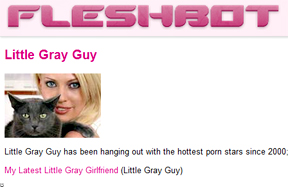 LittleGray recently got a tiny mention on the megasite, Fleshbot.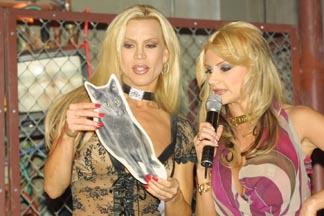 (Thanks to Don Benn of the PornoNewsNetwork for the above photo).

Holding the old LittleGray avatar is Amber Lynn, with Brittany Andrews at the AIM auction that was held one evening during the AVN Adult Expo. The old LGG had been signed on its reverse side by over 20 stars, including Ron Jeremy, Nikki Dial, and Nina Hartley. He fetched $45 and was bought by a big dude named Smack!
Click here for more pics from the Expo.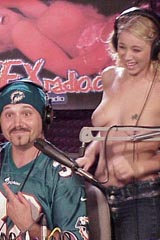 We went to see Wankus at KSEXradio.com. Click here for more pics...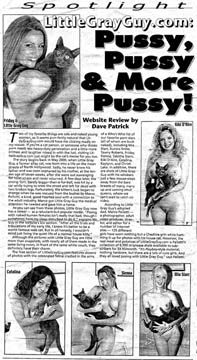 The SF Spectator newspaper ran an article on LittleGrayGuy. Sadly the paper went out of business in 2005... sic transit gloria mundi.
You can read more about the Spectator here.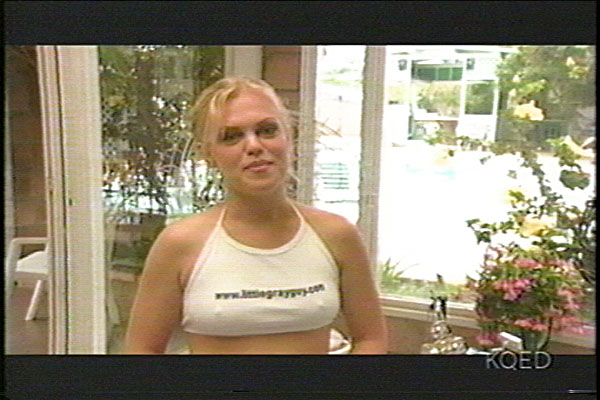 The PBS Frontline TV series showed an episode called American Porn, about the adult entertainment industry in America. At one point, Rachelle Devore is interviewed, and while she's talking you can see she's wearing a "LittleGrayGuy.com" halter top. You can also read about the TV episode here.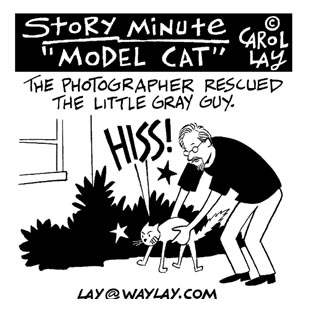 Here's the Story Minute cartoon that was on Salon.com (and in many alternative weekly's around the USA & Canada) that's about little gray me! A nice human female named Carol Lay, who's an artist, drew a cartoon of me, my life (the story's part true, and part made up), and my human photographer. You can find the strip by clicking here, and you can visit Carol's website by clicking here. Enjoy!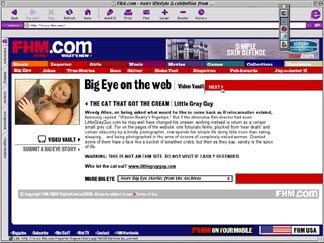 LittleGrayGuy was recently featured on the website of British men's magazine,
FHM.